2014 LAUGHTER CONFERENCE – BRILLIANT!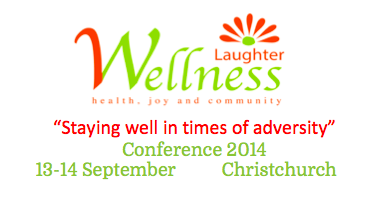 The second Aotearoa / New Zealand Laughter Conference took place on 13th and 14th September, 2014, in Christchurch, our city of disaster. All credit must go to Hannah and her crew, who created a fabulous weekend in spite of the destruction and dislocation of infrastructure still present so many years later. The energy level on both days was amazingly high, from the opening to the closing Karakia. A bevy of presenters, from a wealth of expertise, took us through the numbers, the research, the lessons, and the experiences of delivering wellbeing into the community.
The Conference theme was wellness through laughter. Presenters and their topics were: Hannah Airey on Laughter: the glue of humanity and also Laughter for people working in mental health and support services; Merv Neal on The Science Behind Laughter Yoga; Corallie Winn on Playing in the Gaps: city-making in Christchurch; Carsten Grimm on The Five Ways to Wellbeing: improving your wellbeing can be fun!; Pat Armitstead on What it Means to be Fully Self Expressed; Lisa Tui on Laughing and Singing; Stephen Archer on Mindfulness; Gareth Edwards on Positive Thinking; Olli Ricken on Laughing and Performing; and Linda Woodgate on Destress Practically. Added to which were two laughter sessions and the Saturday night's entertainment, which included the Dance-O-Mat to our great delight, despite the slight drizzle!
My personal summary of the Conference follows – all errors and omissions are mine.
Again and again, from their widely different perspectives, the presenters showed how laughter, even pretend laughter, while it may not directly cure problems, assists enormously with the cure; though it doesn't solve problems it helps dissolve them. So it is a complementary modality, with specific benefits for stress, depression and anxiety, so commonplace today. These stresses flood the body with cortisol and adrenaline, whereas laughter gives us the endorphins and serotonins which boost our immune system and make us feel so much better.
Your genetic heritage defines about 50% of your ability to cope with life; another 10% comes from the circumstances in which you find yourself; the remaining 40% is that portion potentially under your control. This is the area of life skills, where laughter can directly contribute to your wellbeing. Remember that your head brings creativity, your heart brings compassion, and your solar plexus brings courage. All three contribute to a full life. And be aware that nobody's life is under control – all you can do is take one breath at a time, then the next, and the next.
What is important is to say "No!" to negativity. The events that occur in your life, especially those up to age 7, get filed away in your personal filing system, indexed by multiple keys: words, smells, colours, moods, etc. But you are in control of the files and can choose to remove an item from the system when it is no longer useful – you can press Delete. So when you are angry for example, be Aware of the anger, Acknowledge the anger as something from your files, and Accept that it may no longer be a useful defence, so it can be deleted. And laughter is the energy which helps you become aware, helps you acknowledge, and helps you accept and thus transcend what life throws at you.
Overall the emphasis was on connecting, giving, taking notice, keeping on learning, and being active in your life. Conclusion: the more you laugh, the better you get!
---

LAUGHTER YOGA IN LOCAL NEWS

Good health, a laughing matter for many Kiwis. Alex Bourn for 3News checked out Ponsonby and Christchurch clubs, and snatched an interview with Malcolm Robertson (who established Laughter Yoga in this country). The video was broadcast at the end of the 6pm news on Easter Sunday, 20th April. You can read the item transcript and view the video clip here. Regrettably, 3News charges for the ability to embed a player for the clip on our web site.

YOU CAN LAUGH MORE
Four Reasons to Become
a Laughter Leader


Professional Development: Laughter is an effective emotional state changer, neutral and non-competitive. You learn to bring people laughter without any need for jokes, comedy or humour—all you need is their willingness to pretend to laugh.

Personal Development: Learning to laugh more easily brings physical, emotional, mental and spiritual benefits, both to yourself and in your personal relationships. Laughter has been found effective in areas as diverse as physical pain relief and clinical depression.

Laughter Leading: When you lead a regular group in laughter the energy they generate comes back to you many times over. In addition you develop valuable skills in organisation and delegation, negotiation and marketing.

Fun Weekend: Two days of laughter, and learning about laughter is an enjoyable and life-affirming experience. It leaves you energised and enthused.

Check out our Events Calendar for details of upcoming courses.

---

Ciara Pratt, reporting for the Western Leader, posted this story and video on (of course) April Fool's Day! Laughter Yoga – it's not a joke!

---

FORTHCOMING EVENTS IN AOTEAROA / NEW ZEALAND

To quote Dr Madan Kataria, the founder of Laughter Yoga,

"In Laughter Yoga, we don't laugh because we are happy; we are happy because we laugh."


Train as a Laughter Leader
22 & 23 November – Laughter Leader Training in Auckland.

Check out our Events Calendar to see details of these and other activities.

---