Calendar
| | | |
| --- | --- | --- |
| 7 May, 2017 | | World Laughter Day |
| 15 & 16 July, 2017 | | Laughter Leader Training – Auckland |
| 19 & 20 August, 2017 | | Laughter Wellness Weekend & Leader Training – Wellington |
| 28 & 29 October, 2017 | | Laughter Wellness Weekend & Leader Training – Queenstown |
| | | |
---
Laughter cannot heal or solve anything, but it can help to heal and dissolve everything.
Certified Leader Trainings
Become a Laughter Leader
Not only will you expand your laughter horizons, you'll have an ability you can share with others. You will learn the practical skills and theory of laughter yoga to be able to start a Laughter Club. This experiential and often life-transforming workshop is ideal for personal development and anyone interested in running a Laughter Yoga group. The training is fully accredited and you receive certification from the Dr Kataria School of Laughter Yoga upon completion of the workshop. The teachers present a combination of positive psychology and how to access unconditional laughter to give participants valuable tools for everyday life.
Laughter Wellness Weekend & Laughter Yoga Leader Training
– Auckland, Wellington, Queenstown.
Training run by Hannah Airey, Certified Trainer of Laughter Yoga Leaders.
Unfortunately Hannah's Auckland weekend has had to be re-scheduled.
New dates will be posted as soon as they can be arranged.
Dates:
Auckland – 9:30am to 4:30pm both days.
Wellington – Saturday & Sunday, 19 & 20 August, 2017.
Queenstown – Saturday & Sunday, 28 & 29 October, 2017.
Venues:
Auckland – Yoga Shala, Kawai Purapura, 14 Mills Lane, Albany.
Venues for Wellington & Queenstown to be advised – refer Web Site (see below).
Cost:
$375 inc. GST, $325 if paid by 10 May 2017. Refreshers are $200.
Contact:
Hannah on 021 998 109, or email hannah@lotustrust.org.nz
Registration:
Download registration form (MS Word).
Web Site:
www.thegiggles.co.nz/two-day-workshops.
Certified Leader Training – Auckland.
Training run by Bob Harvey, Certified Trainer of Laughter Yoga Leaders.
| | | |
| --- | --- | --- |
| Dates: | | Saturday & Sunday, 15th & 16th July, 2017. 9:00am to 5:00pm both days. |
| Venue: | | Auckland Women's Centre, 4 Warnock Street, Grey Lynn, Auckland. |
| Cost: | | $325 inc. GST, $265 if paid by 15 May, $285 if paid by 15 June 2017. Refreshers are $150. |
| Contact: | | Bob 021 646 280, Gay 021 0635 035, or email laughteryoganz@gmail.com |
| Flyer/Registration: | | Download flyer & registration form (PDF). |
World Laughter Day – 7 May, 2017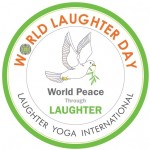 Make Laugh, Not War.
World Laughter Day is celebrated on the first Sunday in May. In 2017 it will be on the 7th May. Details of celebrations held around the country will be posted as they are confirmed. Please click on the images below to view our picture galleries of past year's celebrations.
AUCKLAND

We have the same venue as last year, the Western Springs Community Hall, Great North Road, opposite Western Springs Park. No registration necessary. Join us at 5:15pm on Sunday, 7 May 2017 for a Laughter Yoga session followed by complimentary tea and coffee. An optional vegetarian meal is available after the session for $18 – must be pre-paid by 26 April 2016 (contact your local club or email below for ordering). See flyer for details (PDF).

More info: Bob: 09 376 3496 and 021 646 280, Louise 027 475 3734, Gay 021 063 5035, or email laughteryoganz@gmail.com.
REGIONAL EVENTS