Calendar
| | | |
| --- | --- | --- |
| 16 June, 2016 | | Discovery evening with Sebastien Gendry – Wellington |
| 17 June, 2016 | | Discovery evening with Sebastien Gendry – Auckland |
| 18 & 19 June, 2016 | | Laughter Wellness Playshop – Auckland |
| | | |
---
Discovery evenings with Sebastien Gendry
An evening of Laughter Wellness. In pain? Stressed? Depressed? Serious? Lonely? Come lighten up, experience a new way to access your own inner cellular pharmacy and connect with the joy in your heart.
WELLINGTON
From 7:00pm to 8:30pm on Thursday, 16th June 2016, at Emerald Glen Homestead, 5 Emerald Glen Road, Paekakariki. Cost $20.
AUCKLAND
From 7:00pm to 8:30pm on Friday, 17th June 2016, at Auckland Horticultural Council Centre, 990 Great North Road, Western Springs. Cost $20.
Laughter cannot heal or solve anything, but it can help to heal and dissolve everything.

Laughter Wellness Playshop
Get ready for two memorable days of learning, fun and healing with fellow laughter enthusiasts and Laughter Wellness founder, Sebastien Gendry, coming specially from Los Angeles, California. Space is limited.
About the teacher
Sebastien Gendry is the Laughter Wellness guy, a leading expert on laughter and how to unlock its many benefits to promote wellness and wellbeing in everyday life, at home and at work. He has over 11 years of full-time experience working with 1,000s of people on four continents and has students in 37 countries. He has appeared on the Oprah Winfrey Show, 60 minutes, ABC Good Morning America, and many more national media in the USA. He encapsulates and shares the power of positive and playful energy and creativity. Sebastien played a major role in introducing Laughter Yoga in North America and other countries in the mid 2000s. He then went on to create his own method, Laughter Wellness. The appeal of Laughter Wellness is that it combines and expands key elements from various wellness modalities into a rich, solid and versatile blend that is safe, reliable and adaptable.
| | | |
| --- | --- | --- |
| Dates: | | Saturday & Sunday, 18 & 19 June, 2016. 9:00am to 5:00pm both days. |
| Venue: | | Kawai Purapura Retreat Centre, 14 Mills Lane, Albany, North Shore, Auckland. Contact www.kawaipurapura.co.nz. |
| Cost: | | $395 plus booking fee of $11.38 = $406.38 inc. GST. |
| | | Exclusive offer: $475 + booking fee, includes 1 year access to the Laughter Online University Prozone Mama Bear membership (video library, session planner and lots more). NZ$150 value. |
| Registration: | | www.eventbrite.com |
| Flyer: | | Download flyer (PDF). |
| More Info: | | www.laughterwellness.org |
Participants in the full event will receive a comprehensive manual with a documented list of all the exercises practised. Lunch is not included – please bring food to share. You can get accommodation on site from $35 per night without bedding and $45 with bedding.
Certified Leader Trainings
Become a Laughter Leader
Not only will you expand your laughter horizons, you'll have an ability you can share with others. You will learn the practical skills and theory of laughter yoga to be able to start a Laughter Club. This experiential and often life-transforming workshop is ideal for personal development and anyone interested in running a Laughter Yoga group. The training is fully accredited and you receive certification from the Dr Kataria School of Laughter Yoga upon completion of the workshop. The teachers present a combination of positive psychology and how to access unconditional laughter to give participants valuable tools for everyday life.
Certified Leader Training – Auckland.
Training run by Bob Harvey, Certified Trainer of Laughter Yoga Leaders.
| | | |
| --- | --- | --- |
| Dates: | | Saturday & Sunday, 4 & 5 June, 2016. 9:00am to 5:00pm both days. |
| Venue: | | Auckland Women's Centre, 4 Warnock Street, Grey lynn, Auckland. |
| Cost: | | $325 inc. GST, $265 if paid by 15 April, or $285 if paid by 9 May. Refreshers are $150. |
| Contact: | | Bob Harvey 021 646 280, Gay Harvey 021 0635 035, or email laughteryoganz@gmail.com |
| Flyer/Registration: | | Flyer & Registration form (PDF). |
World Laughter Day – 1 May, 2016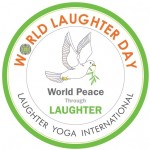 Make Laugh, Not War.
World Laughter Day is celebrated on the first Sunday in May. In 2016 it will be on the 1st May. Details of celebrations held around the country will be posted as they are confirmed. Please click on the images below to view our picture galleries of past year's celebrations.
AUCKLAND

We have the same venue as last year, the Western Springs Community Hall, Great North Road, opposite Western Springs Park. No registration necessary. Join us at 5:15pm on Sunday, 1 May 2016 for a Laughter Yoga session followed by complimentary tea and coffee. An optional vegetarian meal is available after the session for $18 – must be pre-paid by 26 April 2016 (contact your local club or email below for ordering). See flyer for details (PDF).

More info: Bob: 09 376 3496 and 021 646 280, Louise 027 475 3734, Gay 021 063 5035, or email laughteryoganz@gmail.com.
REGIONAL EVENTS