Calendar
2015 Convention & Laughter Wellness Weekend
"Inspiring Communities" – a gathering to celebrate and promote the power of laughter and its influence on wellbeing. Join us on the wellness waka! We are inviting people from all walks of life to attend our weekend conference offering presentations, workshops and performances. Morning and afternoon teas, and lunch are provided both days, plus entertainment on Saturday evening.
Certified Leader Trainings
Become a Laughter Leader
Not only will you expand your laughter horizons, you'll have an ability you can share with others. You will learn the practical skills and theory of laughter yoga to be able to start a Laughter Club. This experiential and often life-transforming workshop is ideal for personal development and anyone interested in running a Laughter Yoga group. The training is fully accredited and you receive certification from the Dr Kataria School of Laughter Yoga upon completion of the workshop. The teachers present a combination of positive psychology and how to access unconditional laughter to give participants valuable tools for everyday life.
Certified Leader Training – Auckland.
Training run by Bob Harvey, Certified Trainer of Laughter Yoga Leaders.
| | | |
| --- | --- | --- |
| Dates: | | Saturday & Sunday, 28 & 29 November, 2015. 9:00am to 5:00pm both days. |
| Venue: | | Auckland Women's Centre, 4 Warnock Street, Grey Lynn, Auckland. |
| Cost: | | $325, inc. GST. Earlybird reductions to $265 if paid by 10 October, 2015, and $285 by 7 November, 2015. |
| Contact: | | Bob on 021 646 280 or Gay on 021 0635 035, or email laughteryoganz@gmail.com to register. |
| Forms: | | Flyer and Registration form (PDF). |
Laughter Yoga Business Training
Laughter Yoga has many facets and applications. One of them is to present it at Conferences, to Corporates, and to Businesses where substantial income can be received. There is a need for people who wish to create a Laughter Yoga business to be able to maximize the opportunities which are now available in this area.
This two day Business Training has been developed to enable the participants to know:


– How to present themselves to the business community in a credible way.


– How to be able to develop and deliver effective presentations and programs.


– How to run a financially sustainable Laughter Yoga business.


– How to get these opportunities through effective marketing.
At the end of this training you will be able to:


– Know how to create a killer BIO.


– How to be able to develop and deliver effective presentations and programs.


– Know how to create and deliver paid Laughter Yoga sessions to a variety of groups.


– Know how to create and maintain a business strategy and plan.


– Know how to create a marketing plan to promote your business.
Training run by Merv Neal, CEO Laughter Yoga Australia and Workplace Wellbeing Welltivity.
| | | |
| --- | --- | --- |
| Dates: | | Monday and Tuesday, 14 & 15 September. |
| Venue: | | Auckland, to be confirmed. |
| Cost: | | $395, includes GST. |
| Contact: | | Click for more details. |
World Laughter Day – 3 May, 2015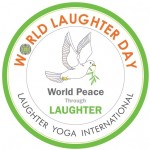 Make Laugh, Not War.
World Laughter Day is celebrated on the first Sunday in May. In 2015 it will be on the 3rd May. Details of celebrations held around the country will be posted as they are confirmed. Please click on the images below to view our picture galleries of past year's celebrations.
AUCKLAND

We have the same venue as last year, the Western Springs Community Hall, Great North Road, opposite Western Springs Park. No registration necessary. Join us at 5:15pm on Sunday, 3 May 2015 for a Laughter Yoga session followed by complimentary tea and coffee. An optional vegetarian meal is available after the session for $18 – must be pre-paid by 28 April 2015 (contact your local club or email below for ordering). See flyer for details (PDF).

More info: Bob: 09 376 3496 and 021 646 280, Louise 027 475 3734, Gay 021 063 5035, or email laughteryoganz@gmail.com.
REGIONAL EVENTS